Since 1977, SMCR has held biennial conferences which feature presentations about all aspects of the menstrual cycle, including those that involve research, theory, public policy, health care, clinical applications, art and activism related to physiological,sociocultural, psychological, or cross-cultural aspects of the menstrual cycle.
Submissions are welcome from physicians, nurses, psychologists, sociologists, anthropologists, women's and gender studies scholars, communications studies scholars, artists, literary and cultural critics, health educators, and menstrual activists. Conference themes vary depending on our conference coordinators' interests and local resources.
We are excited to announce that the 2017 SMCR Conference will be held on Friday and Saturday, June 23-24, 2017 at Kennesaw State University, just outside of Atlanta, Georgia.  
The theme for this year's conference is "Menstruation Matters:  40 Years of Menstrual Cycle Research."  
A pre-conference session for Thursday, June 22, 2017 is also being planned.  The focus on this pre-conference session will be "The Menstrual Cycle as a Vital Sign:  What Health Care Professionals Need to Know about Menstrual Health."  Although the target audience for this pre-conference session will be professionals working in various aspects of women's health, it will also be open to SMCR members wanting to attend.  
For more information about the 2017 SMCR conference or to volunteer to help, please contact Evelina Sterling at esterlin@kennesaw.edu.
Menstrual Health and Reproductive Justice: Human Rights Across the Life Span
The 2015 Menstrual Health and Reproductive Justice Conference, June 4-6, was the largest in SMCR history! More than 200 people from 26 countries participated in a memorable multidisciplinary, international array of panels, presentations, and events. A more detailed conference report is forthcoming in The Periodical, the Society for Menstrual Cycle Research Newsletter.
Those who missed the conference and would like to learn more about individual sessions can view the complete conference program here(with undying gratitude to Jax Gonzalez). We encourage you to contact individual scholars for more information about their work.
Selected highlights from the Poetry Open Mic and Raffle have been posted throughout the summer at SMCR's blog, re:Cycling. Check it frequently, as Rob Lewis has begun editing video and sharing tidbits with us.
Thanks to our sponsors and conference organizers.
Making Menstruation Matter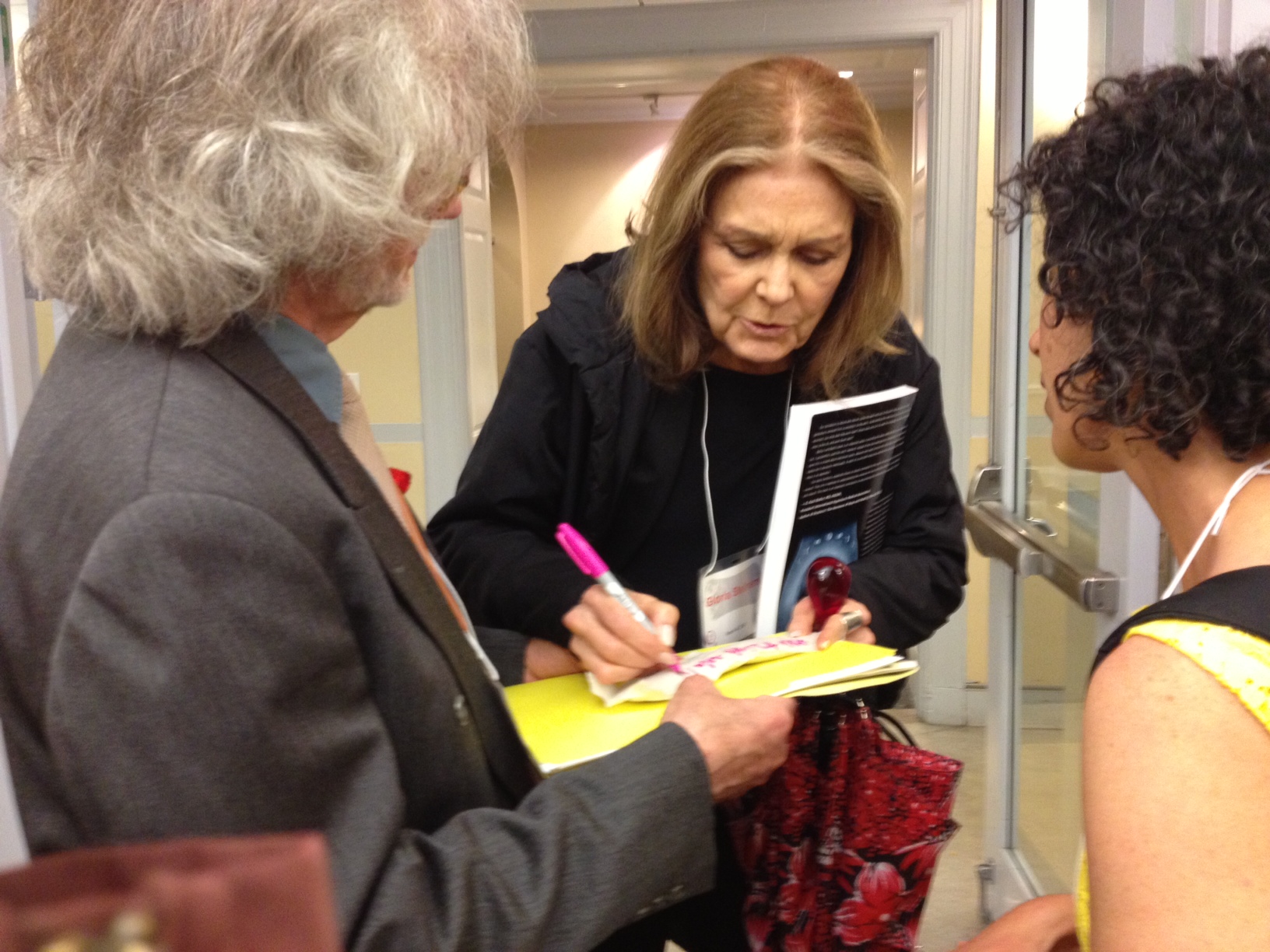 The New York conference featured 24 panels, workshops, and paper sessions; 17 poster presentations; two plenary sessions; two artist displays; and a keynote address by Jane Ussher.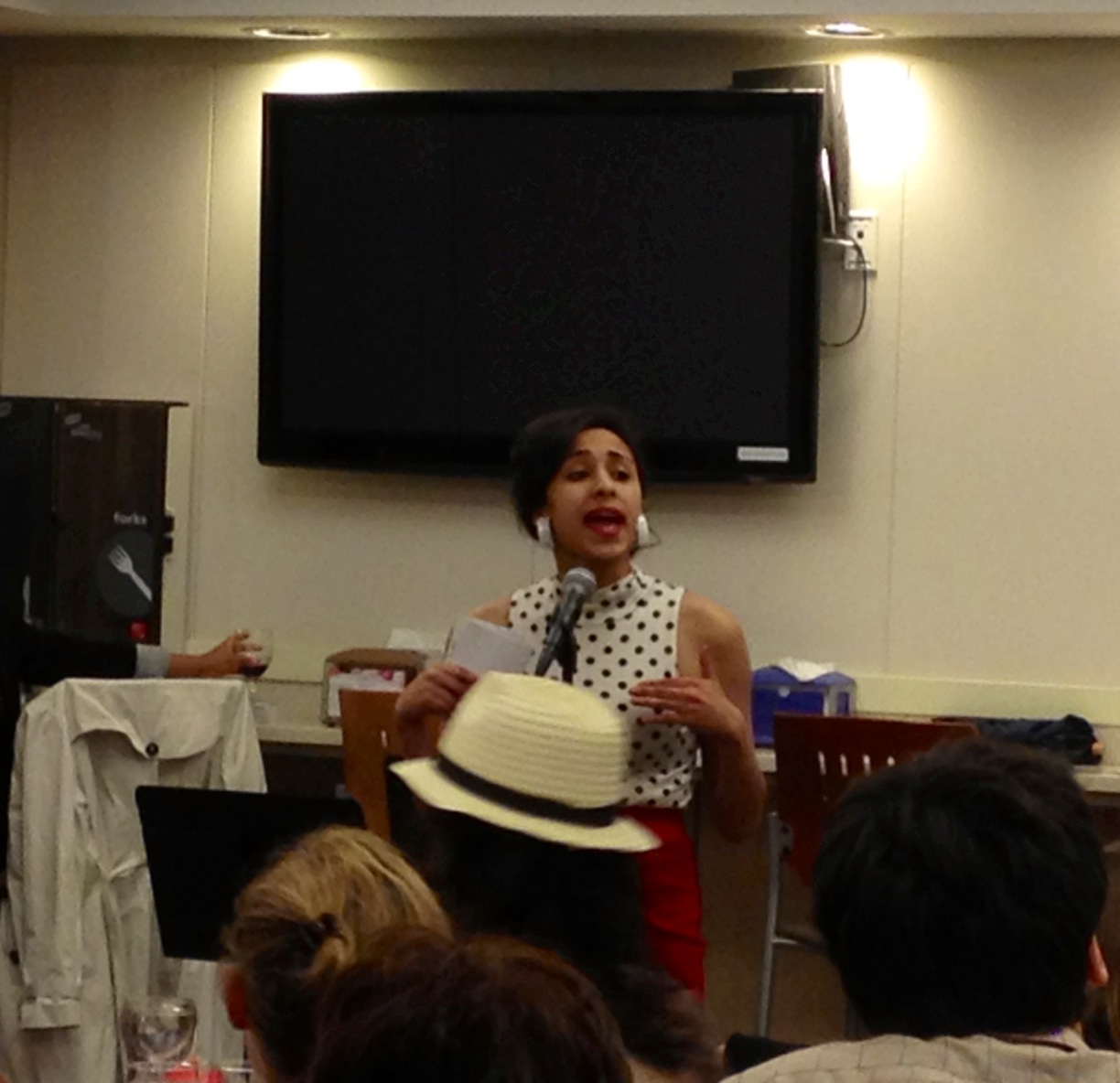 Chella Quint, comedian, artist, teacher, zinestress, poet, jill of trades, presented Adventures in Menstruating: This Time It's Personal after the Saturday luncheon. We learned almost as much as her grade 8 students.
At our 20th biennial meeting in New York, at Marymount Manhattan College, the first "Making Menstruation Matter" award was bestowed on Gloria Steinem, author of the classic piece, "If Men Could Menstruate." Ms. Steinem not only received an award and delivered an address at the conference, she autographed a menstrual pad for S.H.E. (Sustainable Health Enterprises)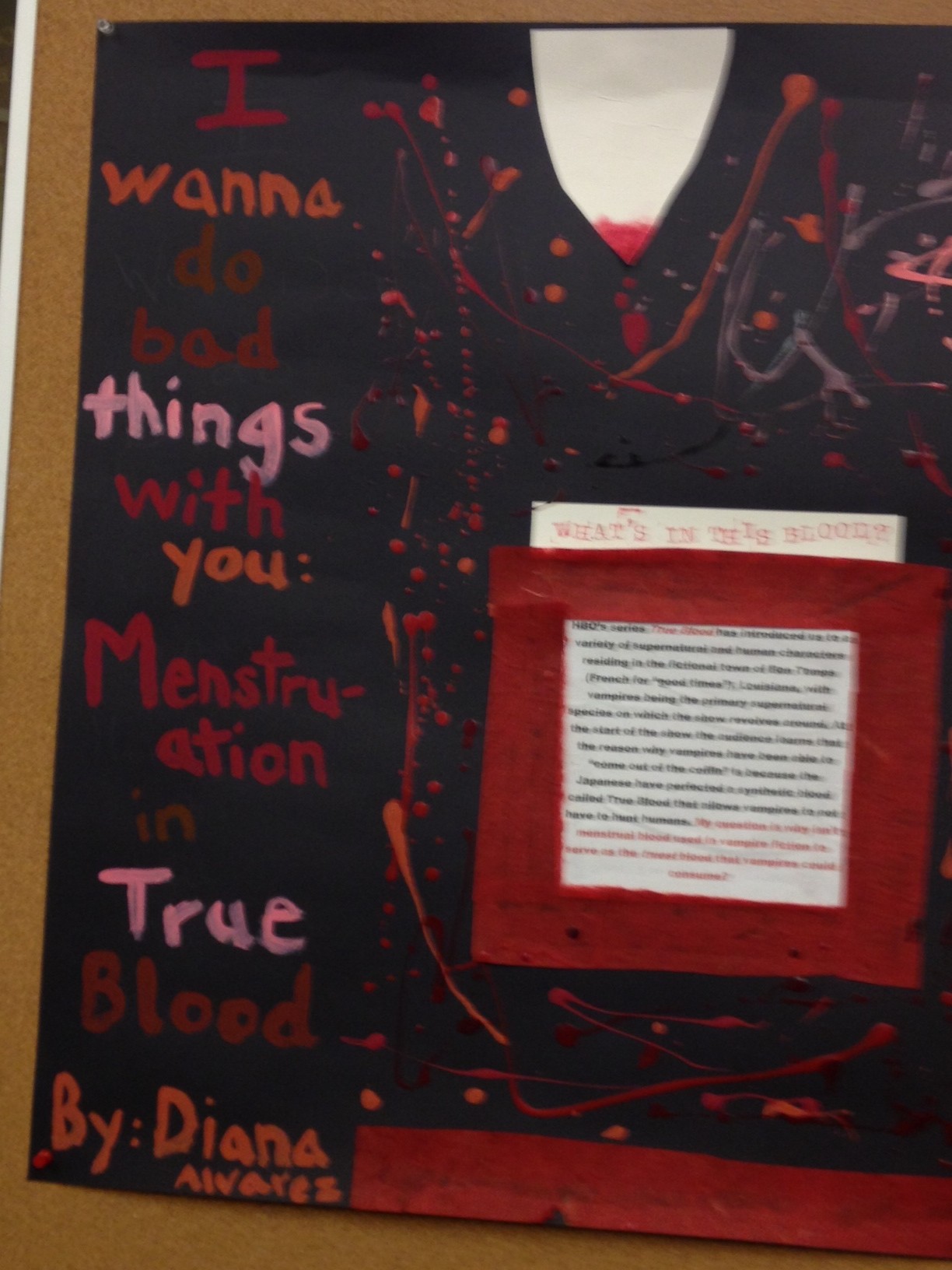 The Society for Menstrual Cycle Research also hosted our first poetry slam, Red Moon Howl, emceed by Karina Billini. It was initially thought to be the world's first, or at least the first in North America, but the New York City planners were quickly corrected by our Canadian colleagues.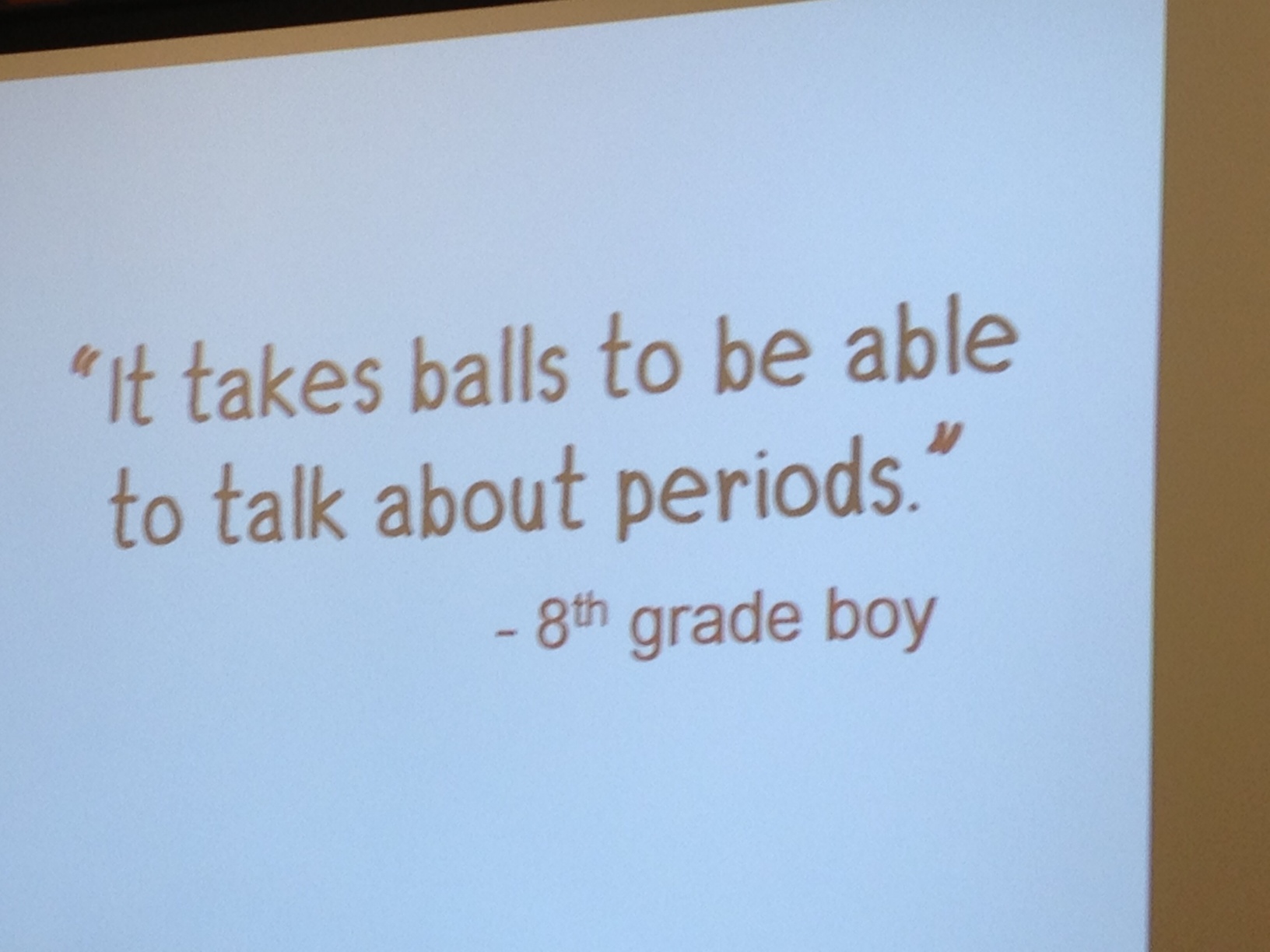 Embodied Consciousness, Informed Choices
Archived Video Streams of 2011 Conference @ Chatham University
Friday morning, June 3
In 2011, meetings of the Society for Menstrual Cycle Research were available on live video feed. Those videos have been archived, and can now be viewed here. The videos are divided over three pages for faster downloading; this page contains presentations from the morning of Friday, June 3.
To locate particular presentations or speakers, or to identify the speakers in the videos, the conference program is available as a PDF file.
Friday, June 3, Eddy Theatre 06:59 AM
Friday, June 3, Woodland 08:11AM
Friday, June 3, Sanger, 10:30 AM
Friday, June 3, Eddy Theatre 06:30 AM
Friday, June 3,Woodland 08:49 AM
SMCR AWARDS
The Society has created and bestowed the following awards which recognize exemplary research, service and other activity promoting greater understanding of menstrual experience and the importance of menstruation to health and well-being:
The Ann Voda Lifetime Achievement Award
This award was created in recognition of the valuable contributions that Ann Voda made during her career as a menstrual cycle researcher and founding member of the Society.  Ann's research focus was on midlife women's health and the menopause transition.
As director of the Tremin Trust data, one of the largest longitudinal collections of data on women's health, Ann and her colleagues came to the natural history of women's menstrual cycles and their menopause transitions. Dr. Voda's body of work was foundational and a catalyst to future research on the topic.
This award is given to recognize an outstanding lifetime contribution to menstrual cycle research.  It is not given every year but at the discretion of the board to a deserving individual.
2013: Dr. Phyllis Mansfield
2013:  Dr. Phyllis Mansfield.  
Phyllis's research menstrual has focused on the menopausal transition. She has been an author on a substantial number of papers about many aspects to the menopausal experience, including the staging of the menopausal transition, and older women's sexuality and body image. In addition, she worked closely with Ann Voda to continue the work of the Tremin Research Project, an ongoing and extensive longitudinal data set on menstruation and women's health, which began prior to 1940.
Phyllis has been a long time member of SMCR, having served on the Board for many years. In addition, she has served as a conference coordinator and also as a co-editor of several special issues of journals (e.g., Women & Health, Health Care for Women International, Women's Health Issues), which provided wider access to the SMCR research work.
2011: Dr. Jerilynn Prior
2011:  Dr. Jerilynn Prior.
Jerilynn' s distinguished career has included documentation that disturbances of ovulation and progesterone production are common, even in regular cycles; that progesterone promotes bone formation and is needed to maintain normal bone in young women; and that perimenopause has erratic and higher, not dropping or low estrogen levels. In addition, Dr. Prior is the founder (in 2002) and scientific director of the Centre for Menstrual Cycle and Ovulation (CeMCOR) which focuses on ovulation and the relevance of progesterone to women's health.  
Jerilynn has been a longstanding member of the Society. She has been on the Board of Directors for 10 years, was our conference coordinator in 2007 and served as past-president from 2007-9. (View Dr. Prior's book)
2009: Dr. Diana Taylor
2009:  Dr. Diana Taylor, Ph.D., RN, FAAN.
Dr. Taylor's lifetime of contributions to women's health research and to women's right of access to full reproductive health care has been outstanding. Early in her research career, she began conducting clinical trials to test health promotion strategies to manage premenstrual symptoms. This work has been widely disseminated along with her descriptive longitudinal studies of the menopause transition of Anglo American, Mexican American, African American and Filipino American midlife women. (View Dr. Taylor's book)
The Mary Anna Friederich Service Award
Dr. Mary Anna Friederich was secretary/treasurer of the Board for 26 years, from 1981-2007 and a founding mother of SMCR. After attending a St. Louis conference in 1978, she volunteered to serve on the original Steering Committee that followed this conference to form the Society.
It was important for our Society to have Mary Anna's support as a physician; she gave an interdisciplinary perspective on women's health.
This award is given to an individual who has made outstanding and unusual service contributions to the Society.  It is not given every year but at the discretion of the board to a deserving individual.
2015: Dr. Joan Chrisler
2015, this award recognized Dr. Joan Chrisler and Dr. Elizabeth Kissing.  
A prolific scholar and the author of numerous published articles and books on women's health, longtime member of SMCR, Joan Chrisler has served the Society in many ways.  She has been a Past President and conference convener and throughout her career has supported the work of many other Society members, by encouraging them to submit their work for publication.  This award recognizes not only her career contributions to SMCR but very importantly, the instrumental role she played in launching SMCR's own journal, Women's Reproductive Health, and serving as its inaugural editor.  Thank you, Joan.
2015: Dr. Elizabeth Kissling
Elizabeth Kissling's research focus illuminates the intersection of women's health, sexuality, embodiment and feminism, especially as these issues are represented in entertainment media.  Liz's expertise on representational messages has benefitted the Society in that she has helped us enhance how the Society represents itself, on the web and in our print material. Liz was responsible for updating our listserv communication, creating our website, and maintaining it since its inception, and our blog. Her behind the scenes work has been invaluable to promoting our visibility in the broader public arena.  Thank you. Liz.
Linda McKeever, DNC, WHCNP, was a dedicated women's health advocate. In her doctoral research she described women's models of menopause, portraying the normal perimenopausal  process.  Before her untimely death from a brain tumor in the early 1990s, Linda was an active participant in the Society for Menstrual Cycle Research.
2015: Amy Dryden
2015: Amy Dryden, from the Center for Health Research, University of Western Sydney, for her presentation, "Young women's constructions of their post-cancer fertility."
2013: Cécile Charlap
2013:  Cécile Charlap, doctoral student at the University of Strasbourg for her paper on "The last ones and the memory of them: Construction, representations, and experiences of the last periods before menopause."
2011: Arpan Yagnik
2011:  Arpan Yagnik for his presentation entitled "Construction of Menstruation in Indian Television Commercials." This research was conducted at Bowling Green University, where Arpan was a second year doctoral candidate studying communications with an emphasis on health and development.
2009: Nicki Dunnavant
2009: Nicki Dunnavant, a graduate of Colorado College, for her presentation, "Restriction and renewal, pollution and power, constraint and community: The paradoxes of religious women's experiences of menstruation."
Esther Rome was a tireless women's health advocate as a member of both the Boston Women's Health Collective and the Society for Menstrual Cycle Research.  Among other interests, she was passionate about tampon safety:  her testimony before Congress on tampon absorbency was influential in pushing the industry to provide some standardized absorbency information on tampon packaging for consumers.  She presented regularly at SMCR conferences and served on the SMCR Board of Directors until her untimely death from breast cancer in the mid-1990s.  
2015: Saniya Lee Ghanoui
2015: Saniya Lee Ghanoui, a student at the University of Illinois, for her presentation, "Menstrual documentary:  Menstrual education films of the 1970s"
2013: Angela Barney
2013: Angela Barney for her presentation "Out of the menstrual closet: Perceptions of women who leak menstrual blood," based on her final capstone project for her Women Studies major from SUNY Fredonia.
2011: Meghan McLean
2011: Meghan McLean for her presentation entitled, "Coaches' Perceptions of a Menstruating Athlete." She conducted her research as a junior psychology major at Connecticut College program in social psychology.
2009: Clara Hendricks
2009: Clara Hendricks, a graduate of The University of Massachusetts, Boston, for her paper entitled, "Menstrual education the construction of womanhood: A study of Latina second-generation Immigrant."
Making Menstruation Matter Award
The Making Menstruation Matter award acknowledges a journalist, activist, artist, public figure or organization who has meaningfully contributed to the public understanding of menstrual cycle-related issues.  The point of the award is to recognize AND encourage thoughtful dialogue about the menstrual cycle beyond the academy.
Unlike our other awards, the MMM award is named prior to the biennial conference so that the awardee may arrange to deliver a guest lecture at the conference. The recipient of the Making Menstruation Matter award is invited to showcase their work at the conference.  This award is not given every year but at the discretion of the board to a deserving individual or organization.
2015: Our Bodies Ourselves
2015:  Our Bodies Ourselves. OBOS [formerly the Boston Women's Health Book Collective] is a non-profit, public interest organization based in the US, which develops and promotes evidence-based information on girls' and women's reproductive health and sexuality. OBOS' landmark publication, Our Bodies, Ourselves, has sold millions of copies around the world and has been translated into more than two dozen languages. The 9th edition published by Simon & Schuster in 2011—40 years after the book's initial publication –received critical acclaim, including being named one of the best consumer health books of that year by Library Journal.
For more than 40 years, Our Bodies, Ourselves has been committed to serving only in the public interest and remains one of the few health groups that does not accept funds from pharmaceutical companies. OBOS's health information—in book format and online—meets international standard for health research.
Working in collaboration with US and global organizations, in more than 30 countries, OBOS vigorously advocates for women's health by challenging institutions and systems that devalue women and prevent them from having full control over their bodies and their health.

We honor this group for these efforts and in particular, their pioneering historic work around improving menstrual product safety (through activism spearheaded by Esther Rome) and menstrual health and awareness more generally.
There is no doubt. Our Bodies Ourselves makes menstruation matter in enduringly profound ways.
2013: Gloria Steinem
2013: Our inaugural award recognized feminist pioneer Gloria Steinem, who, in 1978, penned a brilliant satire first appearing in Ms magazine and later in her collected essays  Outrageous Acts and Everyday Rebellions. In it, she blew the lid off how gender ideology (read: sexism) shapes how we "do" menstruation.
Nearly 40 years old, this piece STILL hums. Have you read it?
Where tongue meets cheek, Steinem was able to break the menstrual taboo of concealment in under 1000 words. Her bold thought experiment stimulated a conversation that we will keep having until something big shifts in the menstrual discourse.
Until then, Steinem wryly asks:
So what would happen if suddenly, magically, men could menstruate and women could not?

Clearly, menstruation would become an enviable, worthy, masculine event:

Men would brag about how long and how much.

Young boys would talk about it as the envied beginning of manhood. Gifts, religious ceremonies, family dinners, and stag parties would mark the day.

To prevent monthly work loss among the powerful, Congress would fund a National Institute of Dysmenorrhea. Doctors would research little about heart attacks, from which men would be hormonally protected, but everything about cramps.

Sanitary supplies would be federally funded and free.
Nearly 40 years out, this prose should be nothing more than a quaint artifact of how things USED TO BE. It should be as relevant today as powder blue leisure suits, wide belts and platform shoes. But the gendered root of the menstrual taboo endures.
Because "If Men Could Menstruate", near and dear to menstrual cycle advocates old and new, and emblematic of Steinen's long career of speaking up for women and girls, the Society for Menstrual Cycle Research  chose Steinem as the first recipient of the Making Menstruation Matter award.  
Timing is everything.
At the same time that "If Men Could Menstruate" was published, The Society for Menstrual Cycle Research was forming. Now more than 3 decades later, it seems most appropriate to honor the courage Gloria Steinem has shown throughout her career in articulating and calling attention to women's realities and imagine something better. To quote Peggy Stubbs, SMCR president:
The intersection of her lifetime achievements and our Society's interests, is no doubt, an example of how far-reaching Ms. Steinem's work has extended. For our part, we want to let her know that her work has and continues to energize ours. And we know there are others who, like us, have been and are similarly inspired by Ms. Steinem to continue to work in their own ways to enhance the quality of girls' and women's lives.
Click here to hear Steinem's remarks at the Awards Ceremony.
Articles from past conferences appear in the following journals: