Since re:Cycling launched in 2009, we've posted often about how film, TV, advertising and literary productions reference menstruation. However, one popular mass medium seems to have generally avoided addressing the cultural and personal presence of the menstrual cycle: popular music. But, there are a few exceptions worthy of note.
It's not surprising that nearly all of the musical menstrual references located so far are songs by or performed by women. Consider the following four examples: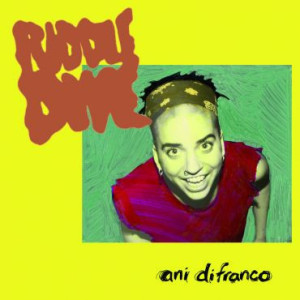 The earliest sighting so far is by the founder of Righeous Babe Records, a leading feminist artist, Ani DiFranco, on her 1993 CD titled PUDDLE DIVE. The track's title, Blood in the Boardroom, gives a good idea of what's in store. The lyrics  depict a scene that thousands of women in corporate settings may have experienced, or at least dreaded the possibility of having to deal with. The character in the song is the sole woman at a meeting with a room full of male executives. She unexpectedly gets her period, leaving a stain on the boardroom chair as she leaves the meeting in search of a tampon. The only woman in sight is a secretary in whom she confides in a moment of menstrual bonding. Though the secretary expresses sympathy for the "hassle" she's dealing with, the singer sees the stain she has left on the chair as a symbol of her women's power:
it ain't no hassle, no, it ain't no mess
right now it's the only power
that I possess
these businessmen got the money
they got the instruments of death
But I can make life
I can make breath
A year later (1995), an aspiring young singer named Monica released MISS THANG, a CD with a track titled Don't Take it Personal (just one of dem days.) In keeping with the tone of the rest of the album, the song has an adolescent longing, even whiny, quality, and the producers clearly thought that this cut had potential for getting air and club play as they included two different mixes of it. Though the lyrics do not make a specific reference to the singer's cycle, the implication of the words carry the notion that she is having an uncomfortable period and that the boy who she is feeling testy towards should just wait it out until it's no longer "one of dem days."
Another young woman who had already achieved a good deal of attention and success in her career, Mary J Blige, released NO MORE DRAMA in 2002 containing a track simply named PMS. She introduces the song by directly addressing the women who might be listening stating, "I wanna talk to the ladies tonight/About situation I'm pretty sure y'all be able to relate to." However, the song then quickly takes a turn and actually is addressed to men:
So don't even look at me
See I don't wanna hear your problem
Cause I'm having some of my own
I know it was not your fault
That I'm feelin down
I just wanna be left alone
The lyrics proceed with a virtual catalog of menstrual-related problems and discomforts backed up by a chorus of women who intone "PMS, PMS, PMS" in a dirge like incantation. At the end the singer returns to addressing the women listeners with a disheartening lament:
if you understand, understand where I'm comin from
Sing along, PMS
This is the worst part of everything
The worst part of being a woman is PMS
Give me a break, give me a break
The song takes a thoroughly negative, even catastrophic, view of the impact of having a menstrual cycle and the style of the delivery matches its depressing darkness. In contrast, a few years later country music star Dolly Parton produced an examination of the same subject in PMS Blues, which is widely available on a number of internet sites reflecting the fact that she commonly includes it in her performances at various venues. And though the gist of the song is similarly negative about the dire impact of PMS, there's a tough amusement in the delivery and style of the approach that makes audiences cheer Parton both for having the temerity to openly perform a piece about the menstrual cycle as well as for displaying the strength and moxie to live through it and come out as spunky and tough as her persona suggests.
But, for contrast, consider a few lines by the Hip-Hop star, Eminem, the only male I've yet found to mention anything menstrual. In 2002, the same year that Mary J Blige's PMS was released, Eminem released one of his most important CDs, THE EMINEM SHOW which includes a cut titled Without Me. The song is in the common category of male boasting about one's own power and brilliance, in this case along the lines that the entire world of Rap music has been suffering due to his absence as he has had to deal with some legal problems. The frequent refrain is "It feels so empty without me." The passing menstrual detail suggests profound male ignorance about the actual process of the menstrual cycle, though it is an attempt to use a reference to women's reproduction in a way that grants it creative power.
In a complicated series of images and references that jump from one detail to another there is a line that conflates menstruation and ovulation as though they were one and the same thing, that being "on the rag" means that one is "ovulating."  Clearly, Eminem missed the health class on sexuality and reproduction:
You waited this long to stop debating
'Cause I'm back, I'm on the rag and ovulating
Surely there are more songs, and more current examples, that warrant inclusion in any catalog of menstrual music lyrics, so readers are invited to send them along with a comment on their meaning and source.
David Linton is an Emeritus Professor at Marymount Manhattan College. He is also Editor of the SMCR Newsletter and a member of the re: Cycling editorial board. His research focus is on media representations of the menstrual cycle as well as how women and men relate to one another around the presence of menstruation.